Dutch Golden Age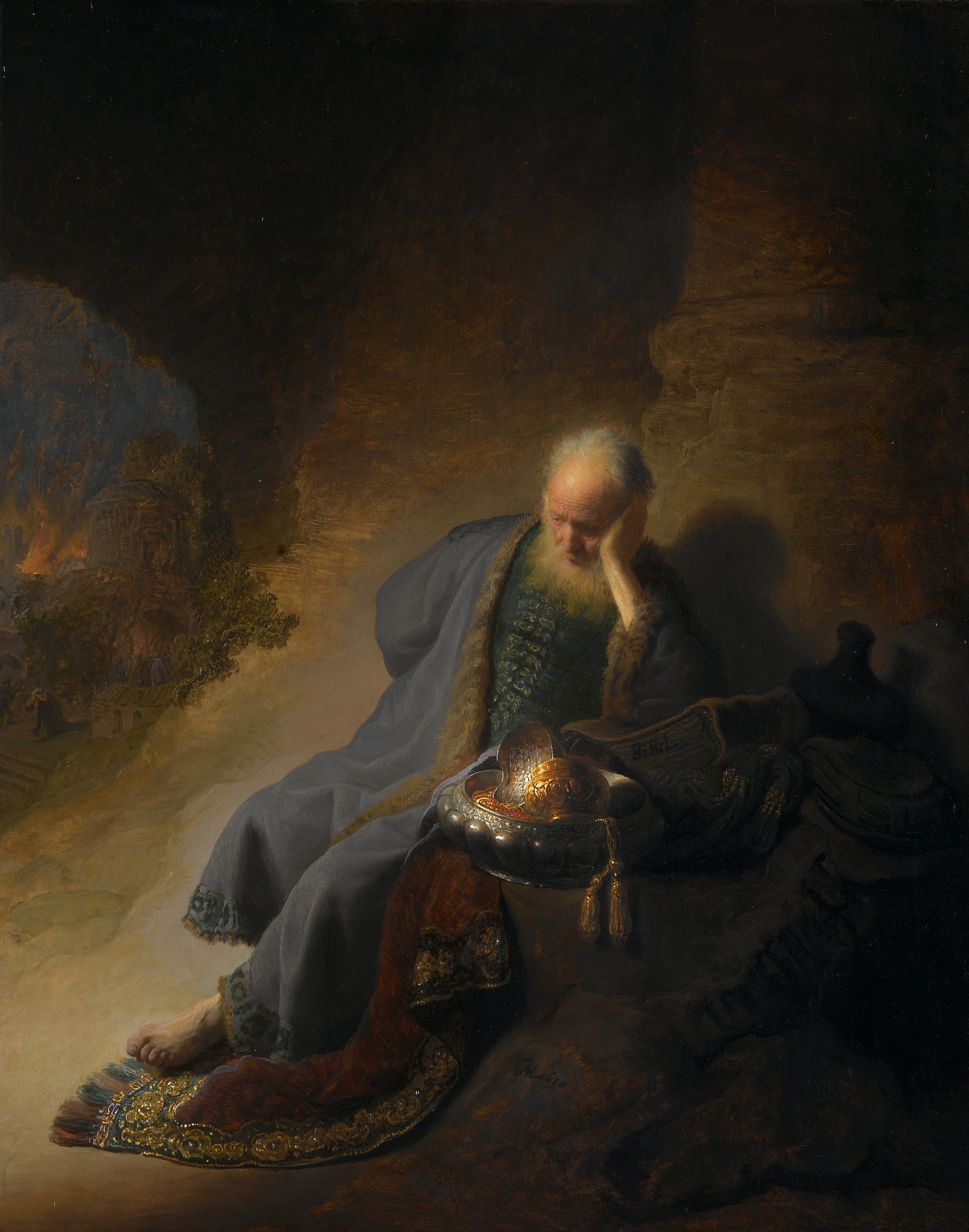 Dutch Masters of the Golden Age Painting
Jeremiah Lamenting the Destruction of Jerusalem.
Creator: Rembrandt. Date: 1630.
Institution: Rijksmuseum. Provider: Rijksmuseum. Providing Country: Netherlands. PD for Public Domain Mark
Europeana

---
History of Dutch Painting
Dutch Golden Age Painting from about 1620 to 1680 developed a very distinct style of painting depicting the natural world that favored landscapes such as the dunes along the western sea coast and rivers with surrounding meadows where cattle grazed, often with a vision of a city in the distance.
They depicted everyday life with Dutch proverbs and sayings that conveyed a moralistic message.
Between 1605 and 1635 over 100,000 paintings by painters like Frans Hals and Jacob van Ruisdael, Lieven de Key and Jan Steen were produced in Haarlem, capital of the province of North Holland with paintings depicting the city's glorious history and products.
Many portrait paintings were also commissioned by wealthy individuals during the 17th-century.
Dutch words "stilleven" and "landschap" which were adopted into English as "still life" and "landscape" upon which art in Europe depended for the next two centuries.
The Golden Age never really recovered from the Franco-Dutch War (1672-78) causing the republic to collapse in 1795 and its colonial empire was eclipsed by England.

---

The Netherlands

The Netherlands is famous for its canals and cobblestone streets, Delft Blue earthenware, bulb fields, windmills, cheese markets, wooden shoes, bicycles. as well some of the most treasured masterpieces of Old Dutch Masters art in the world. The Old Dutch Masters dedicated their lives to art through their passion. Their artistic passion provided the energy, commitment and the enthusiasm to create unique masterpieces.

---
The New Dutch Republic
The Netherlands became a Spanish possession beginning in 1556 when its crown passed to the foreign king Philip II of Spain.
William the Silent (24 April 1533 - 10 July 1584) was the Father of the Dutch Republic.
He was the main leader of the Dutch Revolt which saw The Netherlands emerge as a state during the Eighty Years' War (1568-1648), declaring their independence from the Spanish Empire in 1581.
The new Dutch Republic was proclaimed in 1588.
The Dutch Republic achieved world power in the 17th-century and became a leading power in European trade, science, and art.
The Dutch East India Company (United East India Company), was a mega-corporation which prospered through most of the 17th-century as part of the powerful Dutch, commercial empire in the East Indies (present-day Indonesia).
It was dissolved in 1799.
Capitalism was the economic and political system which caused trade to expand, attracted immigrants and stimulated the growth of the main cities and ports.

---
Rembrandt Harmenszoon van Rijn (1606 - 1669)
Rembrandt is considered one of the greatest artists in the history of Baroque-style painting.
He was a prolific master in three media - draughtsman, painter, and printmaker who also taught many important Dutch painters.
His subject matter was wide ranging from portraits and self-portraits to landscapes, genre scenes, allegorical and historical scenes, and Biblical and mythological themes as well as animal studies.
Famous Paintings by Rembrandt
*The Night Watch (1642)
The Night Watch is famous for three things: its colossal size (363 cm × 437 cm (11.91 ft × 14.34 ft)), the dramatic use of light and shadow (tenebrism) and the perception of motion in what would have traditionally been a static military group portrait.
*The Jewish Bride (1665)
The Jewish Bride, depicted as Isaac and Rebecca, the sitters were emphasizing their fidelity and piety and that their marriage was a happy and virtuous one.
*The Storm on the Sea of Galilee (1633)
An oil-on-canvas painting depicting the Biblical Story of Jesus calming the storm on the Sea of Galilee.
It is Rembrandt's only seascape.
*Head of Christ (1648)
The Head of Christ is a 1648 painting now in the Gemäldegalerie in Berlin.
*Bathsheba at Her Bath (1654)
The painting hangs in The Louvre depicting King David seeing Bathsheba bathing from the Old Testament.

---
Johannes Vermeer (1632 - 1675)
Dutch Golden-Age artist,Johannes Vermeer was a Baroque Period painter who specialized in domestic interior scenes of middle-class life and his masterly use of light in his work.
"Almost all his paintings," Hans Koningsberger wrote, "are apparently set in two smallish rooms in his house in Delft; they show the same furniture and decorations in various arrangements and they often portray the same people, mostly women."
About 36 of his paintings exist and are among the most revered treasures now found, in the world's finest museums.
Famous Paintings include:
*View of Delft (1661)
*Girl With a Pearl Earring (1665)
*The Milk Maid (1658)
*The Little Street (1658)

---

Johannes Vermeer

---
Paintings That Celebrate Ordinary Life
Johannes Vermeer was a Dutch artist known for his paintings of 17th-century daily life. He painted mostly domestic interior scenes and is renowned for his masterly use of light in his work. His subjects are often women in interior scenes completing chores, as in The Milkmaid (1660). Girl with a Pearl Earring (1665) is probably his most famous painting. His artistic achievements went largely unnoticed throughout his life but is now recognized as one of the greatest painters of the Dutch Golden Age.
https://ezinearticles.com/?Johannes-Vermeer---Paintings-That-Celebrate-Ordinary-Life&id=10406300

---
Frans Hals (1582 - 1666)
Frans Hals the Elder was a Baroque painter who is best known for his portraits of wealthy citizens and large group portraits depicting local civic guards.
His paintings depict banquets, meetings of officers, guildsmen, local councilmen itinerant players and singers, gentlemen, fishwives, and tavern heroes.
His wedding portraits show the husband traditionally situated on the left, and the wife on the right.
The painting of the Laughing Cavalier (1624) is one of Hals's most famous works and the Banquet of the Officers (1616) of the St Adrian Militia Company in 1627 captures each character in a variety of poses and facial expressions.
Some of his many paintings include:
*Banquet of the Officers (1616)
*Laughing Cavalier (1624)
*Laughing Boy (1525)
*Officers and Sergeants (1639)

---
Jan Steen (1626 - 1679)
Jan Havickszoon Steen (1626 - 3 February 1679) was a Dutch painter of the 17th-century whose works included portraits, historical and Biblical themes, genre painting and paintings referencing old Dutch proverbs or literature.
Steen often used members of his family as models.
Famous Paintings include:
*Harpsichord Lesson (1660)
*The Dancing Couple (1663)
*Feast of Saint Nicholas (1665)
*The Happy Family (1668)

---
Rachel Ruysch (1664 - 1750)
Rachel Ruysch was a Dutch still-life painter from the Northern Netherlands who specialized in flowers.
Her painting career spanned over six decades and is the best documented woman painter of the Dutch Golden Age.
She started painting from the age of fifteen until she was eighty-three and died aged eighty-six.
Famous Paintings by Rachel Ruysch include:
*Roses, Convolvulus, Poppies and Other Flowers in an Urn on a Stone Ledge (1688)
*Flowers in a Vase (1699)
*Flowers in a Glass Vase (1704)
*Flowers Still Life (1726)

---

Pieter Brueghel the Elder (1525 - 1569)
Pieter Bruegel was a Flemish (region of Flanders) artist and printmaker of Dutch Renaissance painting known for his landscapes and peasant scenes.
He would often disguise himself as a peasant to attend local festivities such as county fairs and weddings to develop his subject matter.
Often referred to as "Peasant Bruegel", to distinguish him from later painters in his family which included his son Pieter Brueghel the Younger (1564-1638).
His paintings depict peasants generally with a landscape background, religious works such as the Conversion of Paul and The Sermon of St. John the Baptist and religious proverbs which were typical of the Northern Renaissance.
Famous Paintings include:
*The Harvesters (1565)
*The Hay Harvest (1565)
*The Peasant Wedding (1567)
*The Sermon of St. John (1564)

---
Hendrick Terbrugghen (1588-1629)
Hendrick Jansz ter Brugghen (or Terbrugghen) was a Dutch painter who was one of the followers of Caravaggio (Italian painter of the late 1500s and early 1600s) - the so-called Utrecht Caravaggisti.
His genre scenes included half-length figures of drinkers or musicians, religious images and group portraits.
Famous paintings include:
*Bagpipe Player (1624)
*The Singing Lute Player (1624)
*Crucifixion with the Virgin and St John (1625)
*The Denial of St. Peter (1628)

---
Peter Paul Rubens (1577-1640)
Rubens is considered the most influential artist of the Flemish Baroque tradition in Europe during the 17th-century and was also the favorite painter of his great Spanish patron, Philip IV.
During his lifetime he produced masterpieces of antiquity from classical and Christian history, mythology, altarpieces, portraits and landscapes.
He was also a prolific designer of cartoons for the Flemish tapestry workshops.
His patrons included royalty and churches.
*The Elevation of the Cross (1610)
*Samson and Delilah (1610)
*The Descent from the Cross (1614)
*Self Portrait (1639)

---
Diary of Anne Frank
The Diary of a Young Girl tells the story of Anne Frank's family who lived in Frankfurt and having to flee to Amsterdam, Netherlands when Adolf Hitler and the Nazi Party gained control over Germany.
http://www.efoodtours.com/anne-frank.html?unique=16526584179872305

---
Everything You Need To Build An Online Business! - SBI!

---
Proof of Success (multi-proof)


Affiliate Disclosure: I am an affiliate of Solo Build It! My goal is to bring together the best resources available and legitimate Online Business Opportunities that can work for you.

---
Ezine Articles Author Link
Click on the Link Below

---
Newsletter Opt-in-Form

The Keen Traveler