English Tea

---
English tea has been a prominent feature of British culture since the 18th century.

The beverage dates back to China in 2737 B.C when dried leaves were boiled in water and served to the Chinese Emperor Shen Nung.

It was the Portuguese and Dutch traders who introduced tea to Europe during the early 1600's where it became a popular upper-class drink.

---
---
In 1662, Princess Catherine of Braganza of Portugal married Charles II and introduced the custom of tea as a court beverage among the aristocracy.

The British East India company first imported two cannisters of tea weighing 143 lbs 8 oz arrived in 1669 from Bantam. 

As its popularity spread throughout Great Britain, fast ships called tea clippers were used to bring tea leaves from India and China.

The Cutty Sark, now docked in Greenwich was one of those fast ships.

---
Tea Shops

Tea first appeared in the London, male-oriented coffee houses by the mid-17th century and by the mid-18th century it became Britain's most popular beverage replacing ale and gin.  

Thomas Twining opened the first English tea shop in 1706, which still exists at 216 Strand, London.

Tea Shops soon spread throughout Britain as a popular and fashionable  social meeting place for unchaperoned women in the Victorian era.

---
---
Tea and Pottery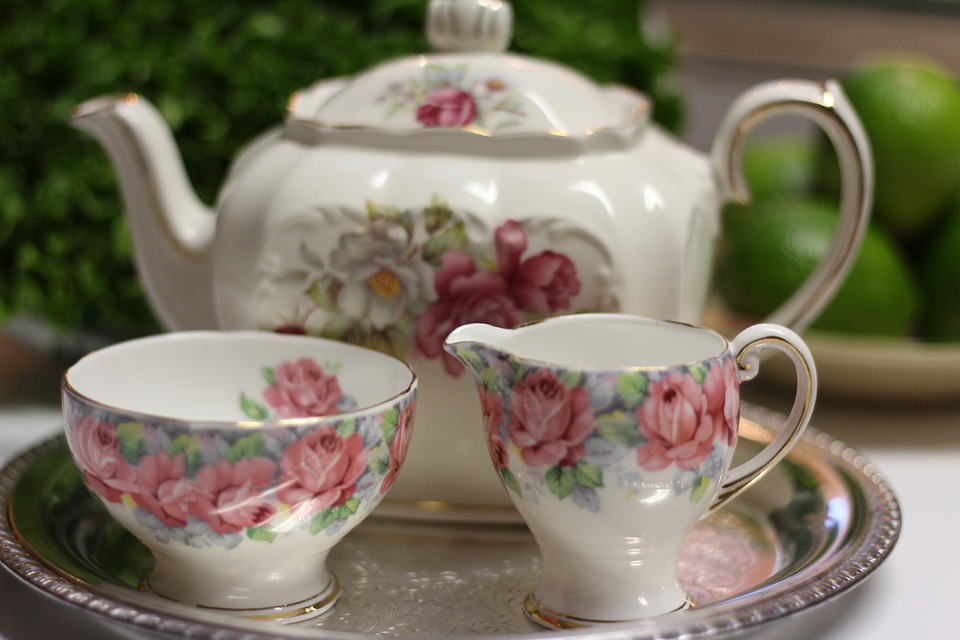 ---
The high demand for English tea brought a large increase in the demand for porcelain tea cups, pots and dishes

Because tea in China was traditionally drunk from cups without handles, porcelain with handles based on Chinese designs were produced in England at the Chelsea porcelain factory around 1743-45.

Since then, the pottery and porcelain industry has prospered with companies such as Wedgwood and Royal Doulton.

---
Afternoon tea
---
Anna Maria Russell, the Duchess of Bedford is credited with making afternoon tea popular amongst the wealthy classes in England in the 1840's after visiting the 5th Duke of Rutland at Belvoir Castle.

It soon evolved into a social affair with friends at her country house and, by the middle of the 19th century, afternoon tea became a daily habit with sandwiches, cakes, scones, cream and jam.

---
---
Cream tea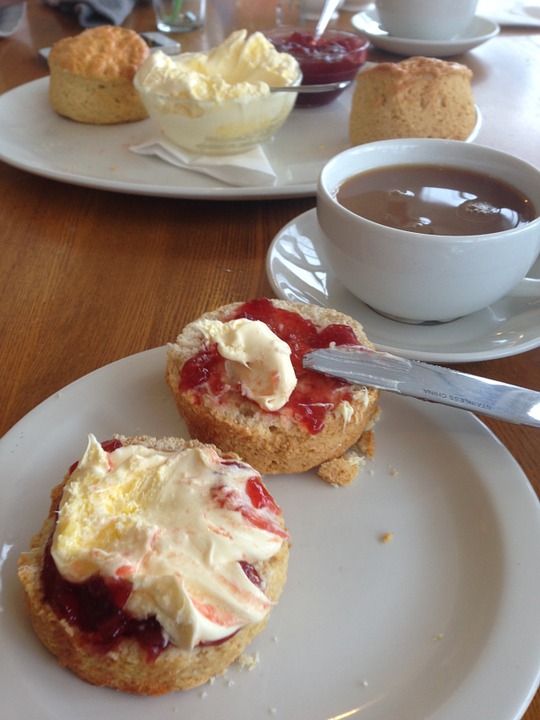 ---
Traditionally Cream teas are an afternoon light meal made famous by Devon and Cornwall. 

"Devonshire Tea" is a pot of tea with freshly baked scones split in two with clotted cream and then topped with strawberry jam.  

"Cornish Tea" is a pot of tea with freshly baked scones split in two and spread with strawberry jam first then, topped with clotted cream.

Clotted cream is made by heating unpasteurized cow's milk which then is left in a shallow pan for several hours which causes the cream to rise to the surface and 'clot'.

---
Tea at The Ritz

Address: 150 Piccadilly, St. James's,
London W1J 9BR, UK
Phone: +44 20 7493 8181
Menu: theritzlondon.com
Reservations: bookatable.co.uk

'Tea at The Ritz' is an iconic English institution.

It received a Commended certificate at the Afternoon Tea Awards 2016 for high standards in tea service and a Michelin star in the Michelin Guide Great Britain and Ireland 2017.

Afternoon tea in London at The Ritz is served in the beautiful Palm Court where you can choose from an impressive selection of the finest loose leaf tea varieties, sandwiches, freshly baked scones with jam and clotted cream and a delicious array of cakes and pastries.

---
Bettys Café Tea Rooms
Address: 1 Parliament St,
Harrogate HG1 2QU, UK
Phone: +44 1423 814070
Menu: bettys.co.uk
Reservations: bookatable.co.uk

Bettys Harrogate has been offering traditional afternoon teas as well as British and Swiss cuisine since 1919.

Enjoy a traditional cream tea with scones and Yorkshire clotted cream and you can choose from a great selection of sandwiches, cakes and patisseries.

---
Ezine Articles Author Link
Click on the Link Below

---
Newsletter Opt-in-Form

The Keen Traveler