Immigrant Lives

---
Ilias Papantoniou
---
Ilias Papantoniou was a skilled craftsman who was one of Adelaide, South Australia's leading tailors as he was back in his homeland, Rhodes Island, Greece.
A custom-tailored suit, jacket or pants expertly cut and finished by Ilia fitted you like no other.
Everything he created for his customer was individually hand-cut and made to exact measurements and style.
His customer's suit had impeccable detail that matched their taste and was made to last a lifetime.
His loyal customers were always satisfied because they wore a garment that made them feel great and unique.
Ilia was born in the beautiful and historic village of Mesanagros in 1905 but spent most of his youth in the town of Rhodes.
He began his tailor's apprenticeship there with a master tailor and honed his skills over several years to become one of Rhodes top tailors and president of the Tailors Association.
He married Mersini, a young girl from the neighboring village of Katavia and had two daughters and a son - Litsa,Suzie and George.
The family immigrated to Adelaide in 1955 and soon after, Ilia opened his tailor's shop on Henley Beach Road, Torrensville, next door to the Thebarton Theatre.
Ilia was an enterprising and successful business man as was his wife, Mersini and their children.
It was Ilia who first brought Greek cinema to the Thebarton Theatre which helped to mitigate the home-sickness many of the early immigrants felt in the new country.
The family established Papas Emporium on Henly Beach Road, Torrensville in the mid-1960s which included Litsa's hairdressing salon, a women's boutique and giftware.
Ilia was a wonderful Greek Ortodox Christian who lived a meaningful life serving his community and his church.
He made significant contributions to his faith and culture and used his position to help build and strengthen them.
Ilia has served his community as president of the Pan Rhodian Society of S.A. "Colossus" from 1963 to 1966 and again from 1995 to 1996.
It was under his initiative and leadership that the Colossus Hall on Henley Beach Road, Torrensville was purchased in 1964.
He was also the inaugural President of the Rhodian Messanagrenos Association S.A. -O Taxiarhis.
Ilia and his family have always been active church members with St. George, Greek Orthodox church in Rose Street, Thebarton and both he and his daughter, Litsa have served their community and church over the years in various capacities.
I will always be grateful to Ilia, my Godfather, for teaching me the Pater Imon (The Lord's Prayer).

---
Michael Manis

Michael Manis
West End
Brisbane - Australia
Spoken in English

---
Michael Manis
Americano

Michael Manis
West End
Brisbane - Australia
Americano
Spoken in Greek

---
Mick Michael

Mick Michael
West End
Brisbane - Australia
Spoken in Greek


---
Vasilios Eliadis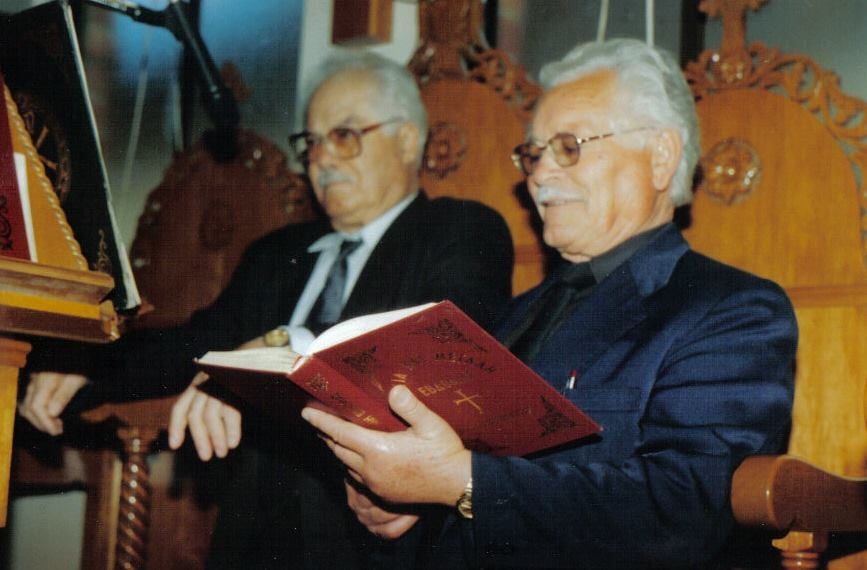 Vasilios Eliadis, right, and Lefteris Koumpis whose story is featured in The Koumpis Brothers, (Immigrant Life Themes).

---
Fish and chips are one of Australia's favorite traditional foods and loved by every generation.
Vasilios Eliadis was born in 1926 in the hilltop village of Mesanagros.
He immigrated to Adelaide, South Australia in 1954 and found work at a foundry in Hindmarsh, then worked at Holdens for a short period.
By 1955, Vasili was able to save enough money to buy the Albion Fish and Chip shop on Churchill Road, Kilburn where he served the popular take-away food consisting of deep-fried fish in batter, breadcrumbs or grilled with thick-cut, deep fried potatoes sprinkled with salt and vinegar and traditionally wrapped in a newspaper.
In 1958, Vasili married his wife, Maria and have two daughters - Pauline and Despina.
Maria, the devoted wife and mother, faithfully served alongside her husband in their Fish and Chip shop.

---
Michael Hagicostas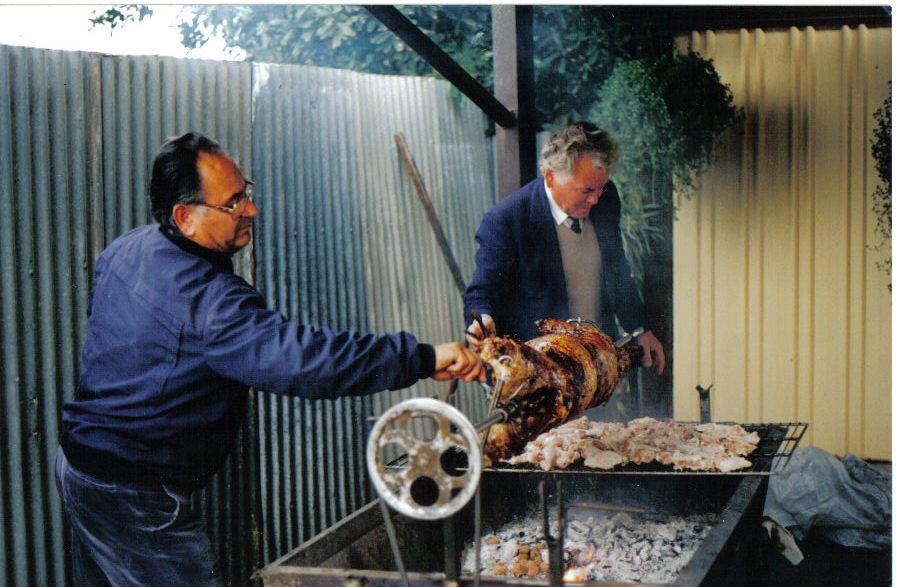 Michael Hagicostas, left and Vasilios Eliadis whose story is featured on this page.

---
Michael (Mihali) Hagicostas was brought up with the values and habits forged in the rural ways of Southern Rhodes (Rhodes Island) and who subscribed to a family culture of working for the common good of the family.
Mihali was born in 1935 in the hilltop village of Mesanagros, Rhodes Island and immigrated to Brisbane, Queensland in 1955 where he found work as a kichen hand.
In 1956, he moved to Adelaide, South Australia and to a job digging roads with the Department of Water Supply.
This was the perion of the rural exodus from the villages of Southern Rhodes and migration to Australia.
In 1960, Mihali reurned to Mesanagros to marry Stella and brought her back to Adelaide where they raised their three children in Gladstone Road, Mile End.
Stella is one of the finest dressmakers to come out of Southern Rhodes who filled a dressmaking niche, working from home for many immigrant women and their daughters.
For Mihali, work and family were woven together for economic necessity in Mesanagros.
His family maintained themselves by growing their own food and tending to their large herd of goats high up in the hilly terrain of Southern Rhodes.
As an immigrant in Adelaide, he worked long hours and in thankless jobs on the assembly line foundry of the factory environment.
On weekends, he worked on building sites for other hard-working immigrants and good friends like Yiannis Papavasiliou and Dimitrios (Pepino) Kypreos.
He established his own family-run snack bar business in Regent Arcade, Adelaide and eventually became a well-respected painter.
For Mihali and Stella, it has been a lifetime of toil and sacrifice by two hard-working parents who worked tirelessly to ensure that their children got the very best in life.

---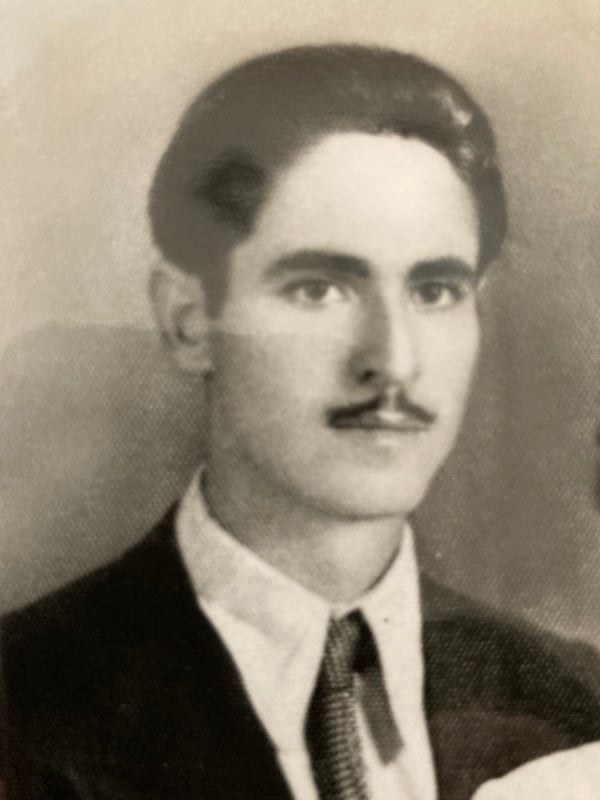 Dimitrios (Pepino) Kypreos - 22 years old.

---
Dimitrios and John Kypreos had to overcome the language and cultural barriers that all immigrants must face.
What they had however, was that inner incentive and work ethic to succeed.
Dimitrios (Jim - Pepino) Kypreos
Jim Kypreos is is a great example of an immigrant success story.
He was born in 1927 in the Southern Rhodes village of Katavia and immigrated to Adelaide, South Australia in 1953 to join his brother Yianni.
In 1956, he married Erini Antonas whose own family were also immigrants from Rhodes Island.
The Antonas family established the very successful Antonas Seafoods in Adelaide.
Through hard work and toil, Jim quickly developed his own successful business involved in all aspects of the building industry.
His company built the Greek Orthodox Church, St, Spyridon at Unley and the Greek Orthodox Church, Panayia tis Theotokou at Berri in the Riverland, South Australia.
In 1967,he moved into a successful partnership with his wife, Irene that culminated in the establishment of several snack bars beginning with their first at Kent Town.
They moved to the Hibiscus Snack Bar in Grenfell Street, Pepinos in City Cross, Little Pepinos in Regent Arcade, Pepinos Piazza in Grenfell Street, Pepinos 4 in King William Street and finally, Pepinos in North Terrace.
As president of the Kataveno Association, Ayia Paraskevi for almost forty years he has played a major role in sharing the Southern Rhodes traditions and heritage within his community as well as helping to raise money for various charities and other good causes.
He has given generously of his time, money and expertise in the building industry to labor for his community along with other volunteers like Yiannis Papavasiliou and Dimitrios Giamalis to build the extension of the Colossus Hall in Torrensville.
Jim would visit his beloved village of Katavia every second year to re-live the scenes of his early days and to once again, mingle with childhood friends.
And, it was always a delight to take part in the wonderful religious celebrations of Ayia Paraskevi on July 26 in Katavia with its special church services that were followed by an unforgettable paniyiri (festival) of traditional food, music and dancing until the early hours of the morning.
Yiannis Kypreos
Yiannis Kypreos, the hard-working and devoted family man was born in Katavia in 1933 and immigrated to Adelaide, South Australia on the Yugoslav cargo ship, Bosna in 1950.
In 1955 he married Koula with whom he had four children.
From the rural life of Katavia to the cafe and restaurant kitchens in Adelaide, he faced the challenges all rural immigrants endured in the new urban environment.
The Trocadero restaurant launched his cooking career and gave him entry to a brand new world of food preparation that set him on a lifetime path as a chef.
From there, he went to work at the Oriental, the Elizabeth and the Earl of Zetland hotels.
In 1972, his valuable work experience in the food industry and financial backup througth years of hard work enabled him to become self-employed and to be able to work alongside his close-knit family.
Yianni and Koula bought Pepinos Snack Bar in City Cross from his brother Dimitrios Kypreos and followed it up later by investing in Little Pepinos in Regent Arcade.
Here, the Kypreos family served the classic, quick and affordable fast food and tasty meals that are hard to resist.

---
Yiannis Kypreos - 16 years old

---
Dimitria Nicholas
---
Dimitria Nicholas was born in Asia Minor in 1913.
Her family became refugees and were among the Greek–Turkish population exchange that came out of the treatment of the Christian minorities in Asia Minor.
From 1914 to 1923, approximately 3.5 million Greeks, Armenians and Assyrians died during a nine-year genocide by Turkey.
The 1923 population exchange was signed at Lausanne, Switzerland, on 30 January 1923, by the governments of Greece and Turkey.
Historians describe the population exchange as a legalized form of ethnic cleansing from a land that holds many treasures of ancient Greek cities, Greek culture and Greek Orthodox monuments.
Dimitria's family settled in the small, Southern Rhodes village of Katavia, Rhodes Island, Greece.
In 1935, she left her village and immigrated to Adelaide, South Australia.
In 1937, the first Greek Orthodox Church, Archangels Michael and Gabriel was established in Franklin Street, Adelaide which helped the newly arrived immigrants to socialize and to carry on their Orthodox traditions in the way they were accustomed.
In 1938, she married Konstantinos, a Greek immigrant from Cyprus with whom she had five children.
During World War II, the Italian ship Viminale that had brought Dimitria to Australia in 1935, was bombed and sunk.
Dimitria was a wonderful human being who had God in her humble heart.
She loved her close-knit Thebarton community and had an overwhelming compassion for people.
Dimitria lived in George Street, Thebarton, just a couple of doors away from her beloved St. Nicholas Church where she faithfully attended every service throughout the years.
Every Sunday, after each church service, it was always open house at Dimitria's for members of the congregation which included the priest, who looked forward to stopping there for a Greek coffee and cake before heading home.
Dimitria is a wonderful example of Christian people who enrich their community with love and humility.

---
---
Nick Nicholas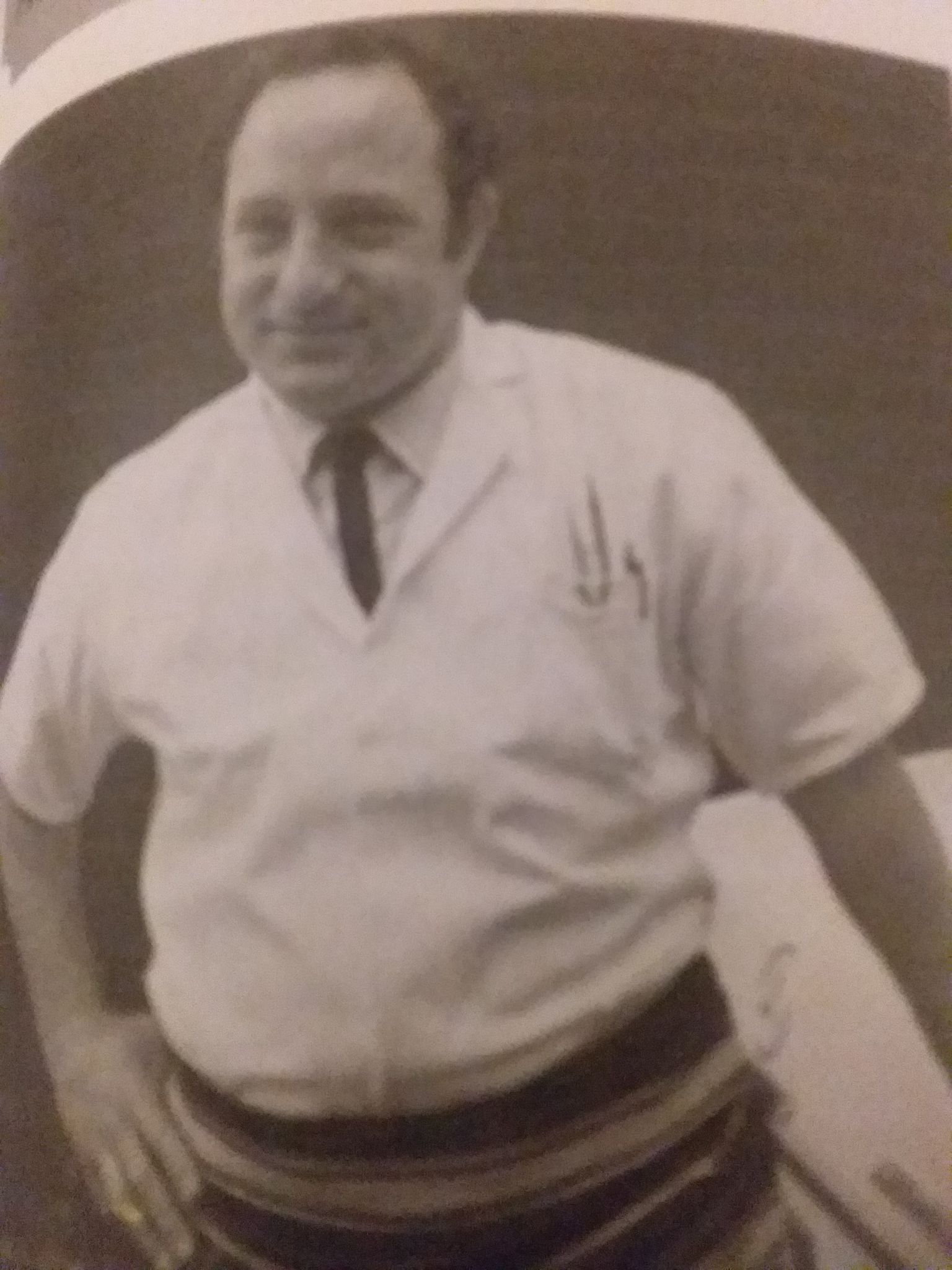 ---
Nick Nicholas was a footballer who was an excellent team man and a fierce competitor who was instantly recognized with his barrel-shaped chest and formidable strength.
He was born in Adelaide in 1940, the son of immigrants from Katavia, Rhodes Island and was educated at Thebarton Primary School and Thebarton Technical High School.
In 1954, he began a five-year butcher's apprenticeship at Con Liascos Butcher Shop in Hindley Street, Adelaide along with his good friend, Michael Lisgos.
Nick and Michael were to spend their working lives together at Mike's Meat Store in Mile End.
In 1966, Nick married Christine, an immigrant from the Southern Rhodes village of Gennadi and their two boys are Con and Sam.
Nick began his football career as a young boy with the West Torrens Junior Colts and, through the seasons progressed up the various grades to play two seasons with the West Torrens Reserves.
Nick also played two seasons of baseball with the West Torrens Baseball Club.
In 1961, GOYA (Greek Orthodox Youth Association) was formed by Greek immigrants who, in the early days, would get together at the South Park lands to kick the football around.
After successful years in the Adelaide Church Association, they transferred into the Amateur League A, Grade !.
Nick joined GOYA from the very beginning and played ten seasons with the club playing on the ball as a hard-running rover or ruck-rover.
Through his leadership he could change the momentum of a game by inspiring players around him at crucial moments.
Through his brute strength he dished out countless bumps to opposition players dispersing them in different directions.
He was to become one of the best and most popular during the golden era of GOYA.
They were the days when the three Nicholas brothers (Theo, Nick and Johnny) played together along with good friends Michael Lisgos, Tom Frossinakis, Theo Giamalis and Phil Galantomos.
Nick played in four premierships with GOYA and was the club's first captain to take them to their first premiership in 1963.
Off the field, Nick and his wife Christine gave freely of their time to serve their community.
At the Pan-Rhodian Association functions he could be found helping behind the bar while Christine was busy in the kitchen preparing food.

---
Ezine Articles Author Link
Click on the Link Below

---
Newsletter Opt-in-Form

The Keen Traveler