Keukenhof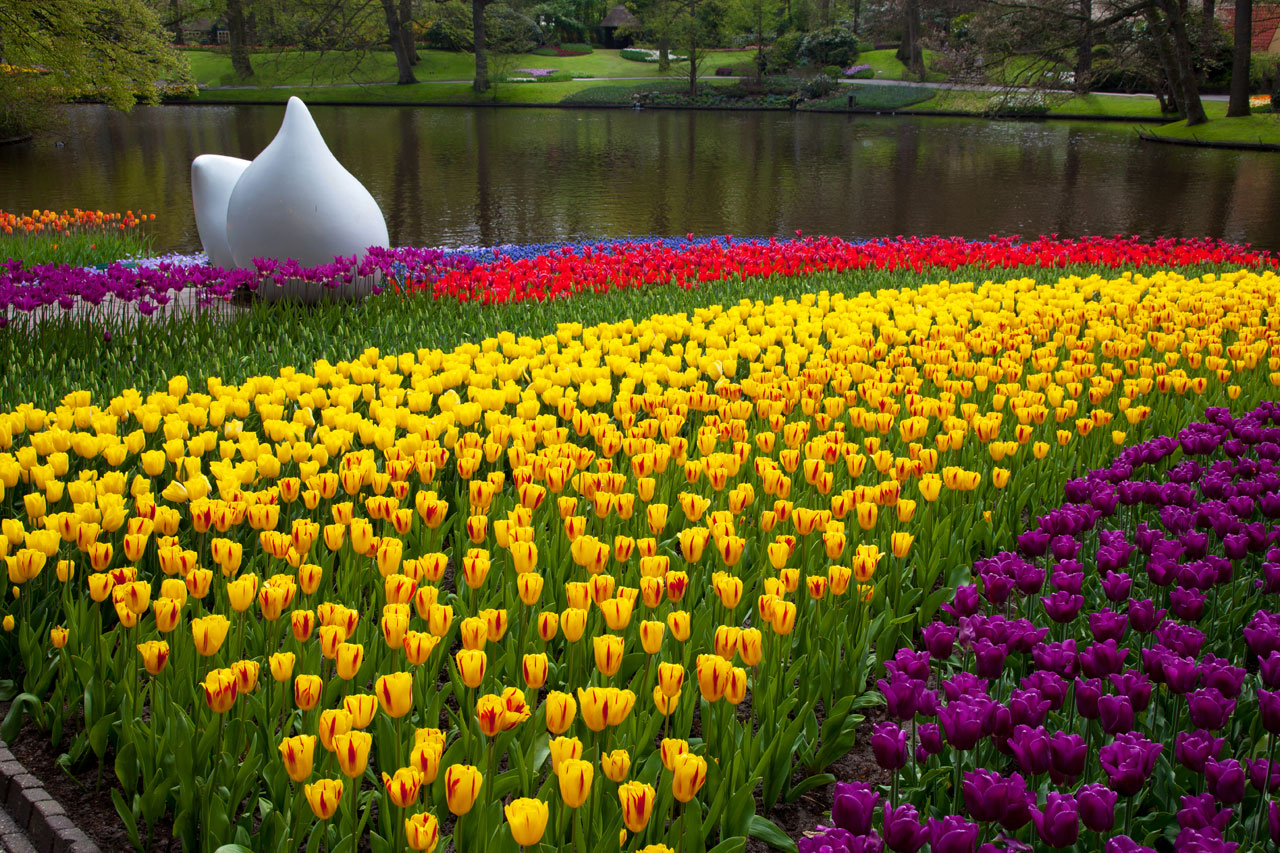 ---
The Garden of Europe

Keukenhof has a special charm that comes alive every spring in colorful, picturesque settings.  

So many colors, so much beauty and full of scent and sunshine, the tranquil, visual delights offer a unique and unforgettable experience.

This panoramic and wonderful garden with its distinctive fields and themes and with its iconic Dutch Windmills, is located about 20 miles southwest of Amsterdam in the small town of Lisse in an area called the "Dune and Bulb Region" or Duin- en Bollenstreek.
 
Approximately 7 million flower bulbs are planted annually including 800 varieties of tulips as well as hyacinths, daffodils, orchids and lilies covering an area of 32 hectares (79 acres).

The garden designs and styles vary from year to year and include the Japanese, English and historical parks.

About 500 growers showcase their prize blooms and pot plants in breathtaking, panoramic garden settings and in more than 20 unique flower shows and pavilions. 

Here, you can enjoy unique artwork, you can visit the Tulipomania exhibition in the Juliana Pavilion and you will find beautiful, iconic Dutch windmills.

Here also, it is a great place to visit for the whole family with attractions designed for children to enjoy such as treasure hunting, a petting farm with lambs, baby goats, pigs and other animals and there is the high-hedge maze and playground.

And, when you get hungry, you can visit the pancake and poffertjes (mini-pancakes) restaurant.

---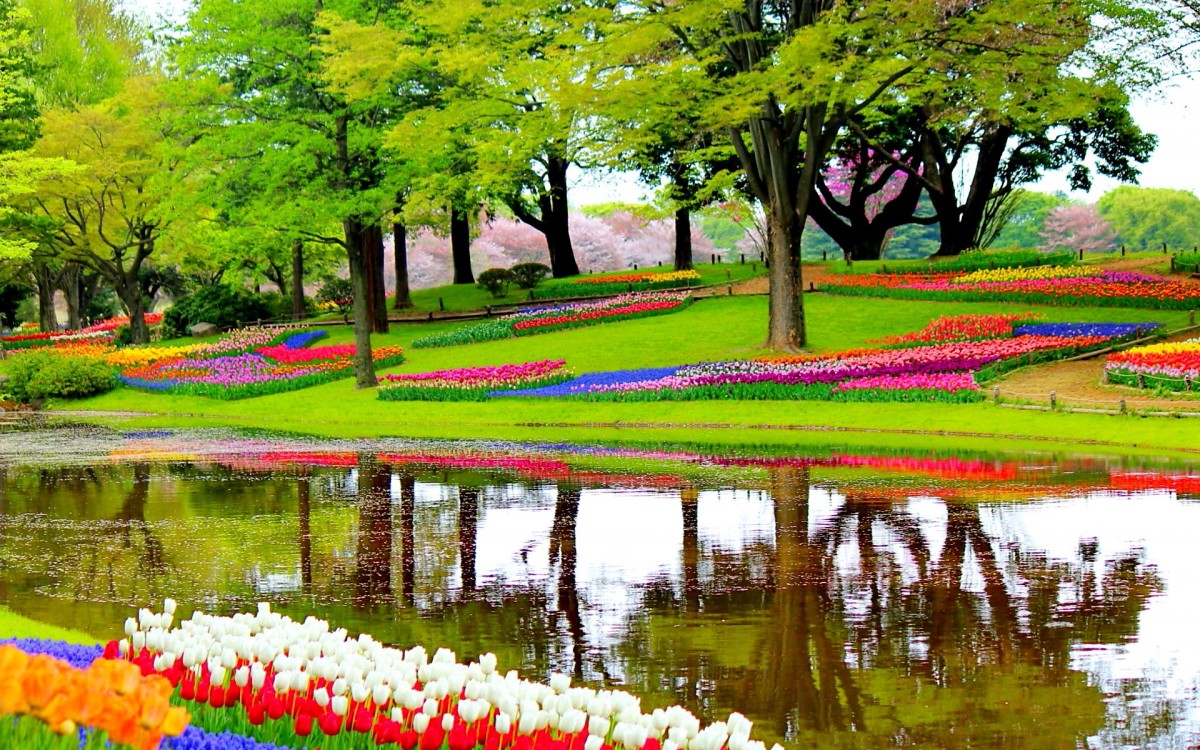 ---
History
Keukenhof means "kitchen garden".

The name goes back to the 15th century when Countess Jacqueline of Bavaria (1401-1436), (Jacoba van Beieren) gathered fruit, vegetables and herbs from the woods and dunes for the kitchen of Teylingen Castle.

In 1949, the garden was officially established and was opened to the public in 1950. 

It was an immediate success.

---
Keukenhof Castle
 The restored 17th-century castle, located directly opposite the world-famous gardens was built in 1641 during Holland's Golden Age.

Originally built as a retreat for family and friends, today it is a wonderful venue for hosting concerts and a various other events.

Address: Keukenhof 1, 2161 AN Lisse,
Netherlands
Phone: +31 252 750 690

---
The Pavilions

The pavilions offer flowering bulbs, cut flowers, pot plants, colorful floral displays and some also offer self-serve restaurants as well.

Some of the pavilions you can visit include:

The Juliana Pavilion

The Orange Nassau Pavilion

The Willem-Alexander Pavilion

The Wilhelmina Pavilion

The Beatrix Pavilion

---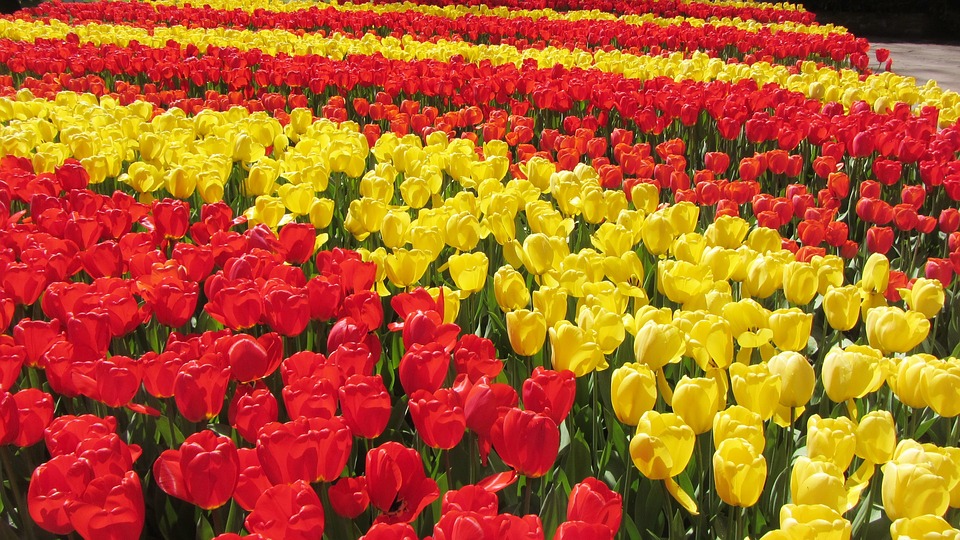 ---
This beautiful, tranquil garden can be reached by bus from Amsterdam or, from the train stations in Leiden, Schiphol or Haarlem.

It is open daily from 8AM until 7:30PM, including public holidays from mid-March to May.
Address: Stationsweg 166A, 2161 AM Lisse, Netherlands
Opened: 1950
Province: South Holland
Phone: +31 252 465 555

---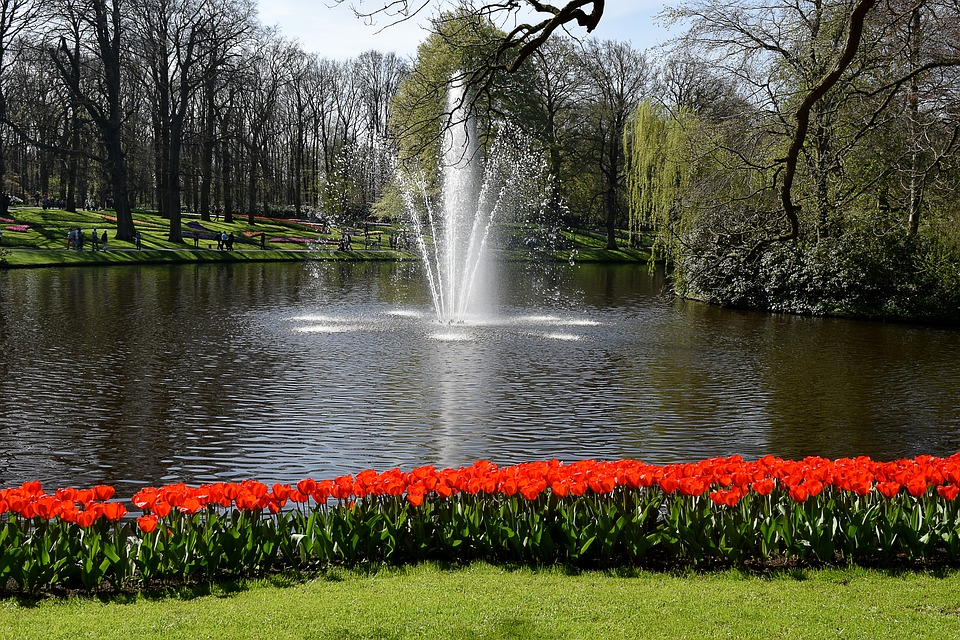 ---
Ezine Articles Author Link
Click on the Link Below

---
Newsletter Opt-in-Form

The Keen Traveler